Johnathan Squire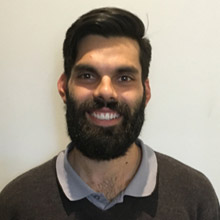 Jonathan is a Physiotherapist who consults at Victoria Street Medical Group, – Doctor of Physiotherapy, The University of Melbourne; Bachelor of Exercise and Sport Science, Deakin University; Sports Trainer – Level 1 SMA; Pilates – Level 1 APPI; Kinesiology Taping – Rocktape Course.
Jonathan has always had a passion for sport and human movement, which led him to pursue a career in physiotherapy. He has a keen interest in musculoskeletal injuries and enjoys working with people of all ages. He believes in patient-centred, holistic management in which he can work together with clients to help them achieve their goals. Jonathan is interested in preventative management and completed his research project on identifying risk factors for acute knee injuries.
Having previously completed a bachelor of exercise and sport science, he was fortunate to spend a season at Geelong FC as a part of a 9 month internship. Throughout this period he was exposed to interdisciplinary, elite sport management and developed many transferable skills that he can bring to his practice.
Outside of work Jonathan enjoys camping, fishing, snowboarding, running and playing a number of recreational sports. He also enjoys travelling and is attempting to learn Spanish!
Jonathan Consults at Victoria Street Medical Group every Tuesday 1pm to 4pm.